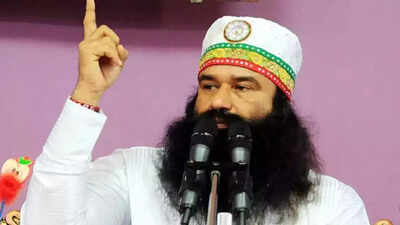 Dera Sacha Sauda head Gurmeet Ram Rahim (File photo)
CHANDIGARH : Haryana has received claims of around Rs 118 crore for losses incurred during the August 2017 dera violence after the conviction of controversial Dera Sacha Sauda chief Gurmeet Ram Rahim in two rape cases by the Panchkula-based CBI court. The amount of Rs 118 crore includes damages caused to the public and private properties, loss of revenue and expenses incurred on providing services to handle the situation at that time.
Complete data containing details of different kinds of losses and damage in Harya-na quantified by various districts and different agencies of the state and the Centre during the 2017 dera violence has been submitted by the Haryana government to the Punjab and Haryana high court.
On May 25, the high court had directed Punjab and Haryana to submit details of claims they have received for losses due to the 2017 dera violence. On Wednesday, the Punjab governmentsubmitted a report, prepared in 2017, regarding the claims received.
Dera violence: Haryana received 216 claims for damages
The Punjab government also informed the HC that it had sought details and would add more claims if any were found to be left out of the previous report.
In terms of loss to public and private properties, Panchkula district suffered a loss of Rs 10,48,01,283, including Rs 10,10,56,387 for damages to private property and Rs 37,44,896 for damages to public property.
Sirsa district, home to the headquarters of the controversial dera, had suffered aloss of around Rs 13 crore, including a loss of Rs 7,07,54,190 to public property, a revenue loss of Rs 4,60,42,691, and a loss of Rs 1,89,67,034 due to expenses incurred on providing services during the dera violence.
Haryana has received 216 claims for damages from different districts and agencies. Most claims, were received from Panchkula (123), 70 from Sirsa, and 17 from Kaithal district. Apart from this, there were 87 claims for loss of revenue and 67 claims for expenses on providing services during the violence. From Sirsa, 29 claims were made for providing services. Haryana Roadways suffered revenue loss of Rs 13,91,26,000, Northern Western Railway Rs 12,50,25,000 and National Highway Authority of India (NHAI) Rs 1,86,00,130 during the dera violence.
Senior advocate Anupam Gupta, who has been assisting the HC in this case as amicus curiae, has sought some time from the court for examining the claims submitted by both the states. On this, the HC adjourned the matter for July.
FOLLOW US ON SOCIAL MEDIA
FacebookTwitterInstagramKOO APPYOUTUBE