NEW DELHI: If the delayed release of the datesheet for the CUET exams had kept students on the edge, finally knowing about their schedule has only heightened their anxiety. In most cases. This unfortunate class of '21-22, that has survived many twists and turns – online-offline, board exams split into two and, finally, the score being rendered largely irrelevant for college admissions – now finds itself being called upon to appear for multiple exams for their choice of subjects in a day without a breather!
Appearing for five to six exams in a day, divided into morning and evening slots, and at least three to four exams, from 9am to 12.15pm without a break, is the stuff that nightmares are made of. The CUET schedule has left students stumped.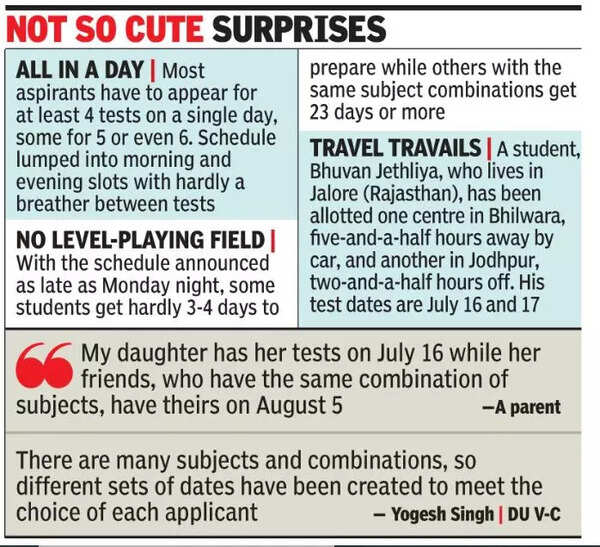 Besides feeling stressed out, the students and their parents are also complaining about a complete lack of a level playing field. First, the datesheet is not common with each student having a different schedule. What's worse, for the same subject combinations, some students have their exams in the first three to four days while others have these in August, giving the latter a distinct edge which many described as an "unfair advantage". It is mostly the humanities and commerce students who have their exams early in July.
Parents and teachers are worried about how students will be able to cope with three to five exams in a day though these are multiple choice questions and of 45 to 60 minutes duration only. Students need to be given a breather before they can make a transition from one subject to another. Not doing well in one paper can have a domino effect. Who has devised this plan for the most important exam of the life of their children so far, angry parents are asking.
Amir Raza, a student whose exams are scheduled for July 16, said, "While introducing CUET, NTA said there will be a level playing field for all the students, but today when I saw my pre-admit card, I felt cheated. My friend and I filled the form simultaneously and yet he has his exams in August," he said.
Another parent, who did not wish to be named since he has a government job, was equally incensed. He said his daughter was getting anxiety attacks since she got her schedule on Monday. Her exams are scheduled for July 16. She is appearing for economics, mathematics and political science.
"Her friends who have the same combination of subjects have their exams on August 5. She is getting virtually four days to prepare while the others are getting 25 days or more. I think this should be factored in for a fair evaluation or the difficulty level of papers for the students who are appearing earlier should be less. There seems to be no logic to how this has been planned," he said.
"My exam date is July 16 but with the same combination my friend has to appear on August 13. Why do some have to appear in just four days and others after a month? Is this really providing an equal opportunity?" asked Waibhav Raj Singh.
The only silver lining for Arunima, a student of Sachdeva Global School, is that she has to appear for the exam on August 4, between 3pm and 6.45pm. Her subjects: English, French, geography, psychology and physical education. "Giving so many exams at one go is definitely challenging. But, thankfully, my exams are later. My friend has her exams in July and she is terrified," said Arunima.
It couldn't have been any worse for Piyush Rangra, a student of The Indian School. He has to appear for English, history and general aptitude in the morning slot and mathematics, economics and political science in the evening slot.
According to NTA, candidates who have opted for physics, chemistry or biology will be appearing in Phase II, keeping in view the NEET (UG) being held on July 17.
As the centre details for the first phase became available on Tuesday evening, there were more surprises. Some students had different exams slotted for different centres. This was mostly in other states.
Bhuvan Jethliya has been allotted one centre in Bhilwara and another in Jodhpur. He lives in Jalore. Bhilwara is five-and-a-half hours from his place and Jodhpur is two-and-a-half hours by car. His exams are scheduled for July 16 and 17.
"Several of my friends have their exams in August. I am very disappointed. The NTA wanted to remove inequality but it has created a system more inequal than before," said Jethliya.
Delhi University vice-chancellor Yogesh Singh asked the students not to worry. "Considering the large number of subjects, a specific datesheet has been created for each applicant. Since there are many subjects and combinations, different sets of dates have been created to meet the needs and choices of each applicant," he explained.