Akola Rain : Rain has appeared in various parts of the state. Life has been disrupted in some areas due to this rain. Akola district has received heavy rains. Due to this rain, water has entered many parts of the city. Due to this rain, roads have become waterlogged in many places. In the large Umri area of ​​the city, the road has literally turned into a river at Vitthalnagar on the Umri to Guddhi road. Also, water has entered the houses of many citizens of Vitthalnagar area. Meanwhile, the intensity of rain has reduced at present.
traffic jam
Due to heavy rain in Akola district, some roads were waterlogged. It has also affected traffic. Many motorists have to work hard to get their vehicles off the road. At night, many vehicles were stuck in the road due to water. Due to this, there was a traffic jam in many places. Due to the water entering the houses of many people in this area, there has been a lot of damage to the household materials and other items. Bansha Nalaya in Goregaon Bujruk village has been flooded and the communication of the village with the district headquarters has been lost. The Katepurna project at Mahan, which supplies water to Akola city, is 100 percent full. Six of the 10 gates of the dam are opened by 30 centimeters each. The district administration has warned the villages on the banks of the river to be on high alert. At present the rain has stopped. Water in Vitthalnagar area of ​​Umri area has started receding.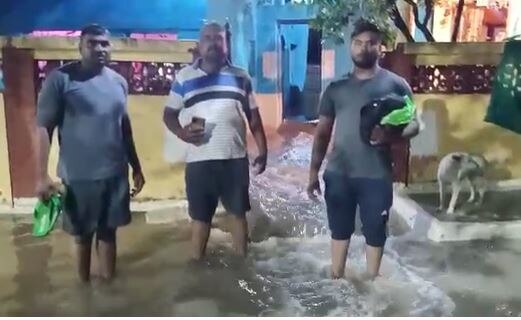 Rainfall in various parts of the state
It is raining in various parts of the state. That is why the rivers are overflowing. Life has been disrupted due to rain in some places. The water storage of dams has also increased. Due to this, water is being released from the dams. Due to this, vigilance warning has been given to the villages along the river. Meanwhile, yellow alert of rain has been given to all the districts of Vidarbha today. Yellow alert has also been issued in Nanded, Hingoli, Jalna, Aurangabad, Latur Beed districts of Marathwada. Also yellow alert has been given to Ahmednagar, Jalgaon district.
According to the forecast given by the Meteorological Department (Meteorological Department), the rainfall expected in Maharashtra till September 14 remained for an additional three days i.e. till September 15, 16 and 17 due to the widespread atmospheric system. But from today (September 18), the weather department has predicted that the intensity of rain will decrease in the state. However, a yellow alert for rain has been given in Vidarbha today. Therefore, there is a possibility of heavy rain.
Important news: