MUMBAI: The MVA government led by chief minister Uddhav Thackeray stayed shaky on Thursday as the ranks of the dissidents continued to swell. Rebel Shiv Sena leader Eknath Shinde claimed strength of 42 party MLAs, with more arriving by the night, including those who had stayed with the party at the start of the revolt.
Shinde also revealed the BJP's support to the coup in a video in which he told his faction, "A national party has said it will provide whatever help we require."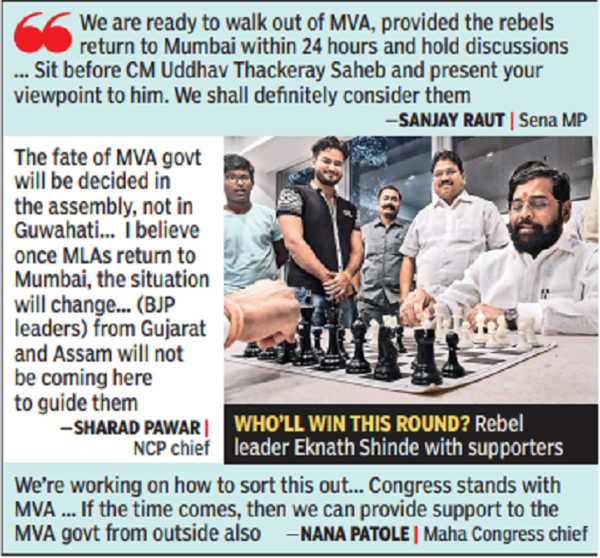 Without naming the party, he said it was a "superpower". The BJP's central leadership, sources said, will steer the party's moves in Maharashtra on government formation. On Thursday evening, opposition leader Devendra Fadnavis left for Delhi to meet home minister Amit Shah.
"Eknath Shinde has achieved the two-thirds mark required to avoid action under the anti-defection law. We shall soon know what is to be done," sources said.
Maharashtra deputy speaker backs Shiv Sena over Shinde bloc
Deputy speaker of the state assembly Narhari Zirwal backed Shiv Sena over Eknath Shinde's dissident faction in the clash over choice of the group leader of the Sena legislature party.
"I have accepted the letter appointing Ajay Choudary as the group leader of the Shiv Sena legislature party," said Zirwal, adding he would have to examine the letter sent by Shinde's faction before making a decision.
Sena had replaced Shinde, who used to head the legislature party, with Ajay Choudary as the party's group leader after his rebellion on Tuesday and sent a letter to Zirwal.
On Wednesday, the rebel faction submitted a letter re-appointing Shinde. It said the resolution to oust him was invalid since the meeting had been attended by only 16 of the party's 55 legislators. The dissident faction's letter was signed by 34 MLAs.
"I will have to examine the letter. There are some things that have appeared in the media. For instance, Nitin Deshmukh has said he did not sign the letter. The signatures of independent MLAs will not be considered," said Zirwal.
All eyes are now on Zirwal as the assembly still does not have a speaker.
Legal experts said Zirwal, as deputy speaker, would have all the powers of the speaker and will have to discharge all the functions of the speaker as allowed by Articles 95 and 180.