GURUGRAM: Five months after raising the monthly funds given to RWAs for maintenance of parks, MCG has now decided to reduce the upkeep rates of poorly maintained parks in the city. In January this year, the civic body officially hiked the park maintenance rates from Rs 3 to Rs 4 per sqm.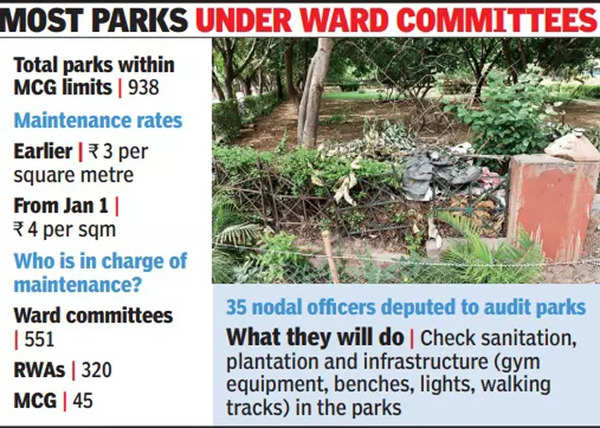 There are 938 parks in the MCG limits, of which 320 are managed by the RWAs and 551 by the ward committees. These city parks are categorised as A, B, C and D. C and D refer to poorly maintained parks, which need renovation. The MCG had earlier decided to withhold the funds of these parks, which made their condition worse.
A survey of the parks was also done last year, which revealed that only 33% of the parks were properly maintained.
Officials said the maintenance rates of the unkempt parks would soon be sharply reduced. "If we completely stop the funds, they won't even clean the parks. So, we have decided to sharply reduce the maintenance rates and give the RWAs some amount so that they can keep the parks in their respective colonies clean," said a senior MCG official.
"Moreover, if any development work is going on in parks and green belts, the respective RWAs or ward committees won't be given any maintenance till it gets over," he added.
In fact, MCG commissioner Mukesh Kumar Ahuja has already deputed nodal officers for each of the 35 wards to carry out inspection of the parks. They have been directed to check sanitation, plantation, infrastructure, including gym equipment, benches, lights and walking path in the parks.
However, residents are not at all happy with the move. "I fail to understand why the MCG is not using technology to monitor its parks. Instead of cutting on maintenance funds, they should use the same and install CCTV cameras in such parks," said Lalit Suraj Bhola, Sector 9A RWA general secretary.
"They are spending crores on parks and sanitation. It is high time the civic body spent a few lakhs more to improve surveillance, bring in transparency and prevent wastage of taxpayers' money," he added.
Councillors also disagree with the MCG's decision. "Parks cannot be maintained if the maintenance rates are brought down," said Kuldeep Yadav, councillor of ward number 29.