Shiv Sena MLA Full List With Eknath Shinde: A new proposal has been sent by the Shinde group to say that we are the group leader. The proposal has the signatures of 37 Shiv Sena MLAs. The proposal has been sent for the second time in the last two days. The proposal sent on Wednesday had the signatures of 34 MLAs. There was a dispute over the signature of Nitin Deshmukh. Now a letter has been sent with the signatures of 37 new MLAs. It is also claimed that he is accompanied by 9 independent MLAs. The letter has been sent to Assembly Secretary, Governor Bhagat Singh Koshyari and Assembly Deputy Speaker Narhari Jirwal.
Eknath Shinde has once again written a letter to the Deputy Speaker of the Assembly. Bharat Gogavale is the main protagonist of Shiv Sena. Such a letter was written by Eknath Shinde. Some time ago, pro-Thackeray Shiv Sainiks had given a letter to 12 MLAs to take action. After that, now Eknath Shinde has written a letter again saying that Bharat Gogavale is our representative … Therefore, it seems that the Uddhav Thackeray dispute against Eknath Shinde has reached its climax. Dada Bhuse, who removed Eknath Shinde from the post of leader, has now joined the Shinde group. Dada Bhuse had also signed the letter to remove Shinde from the post of leader.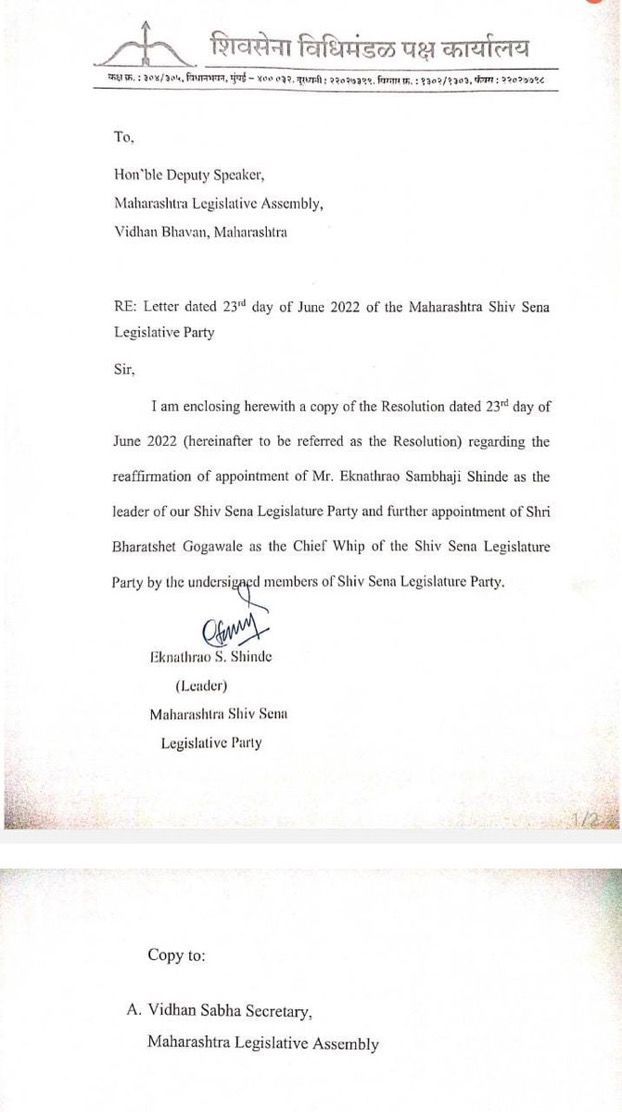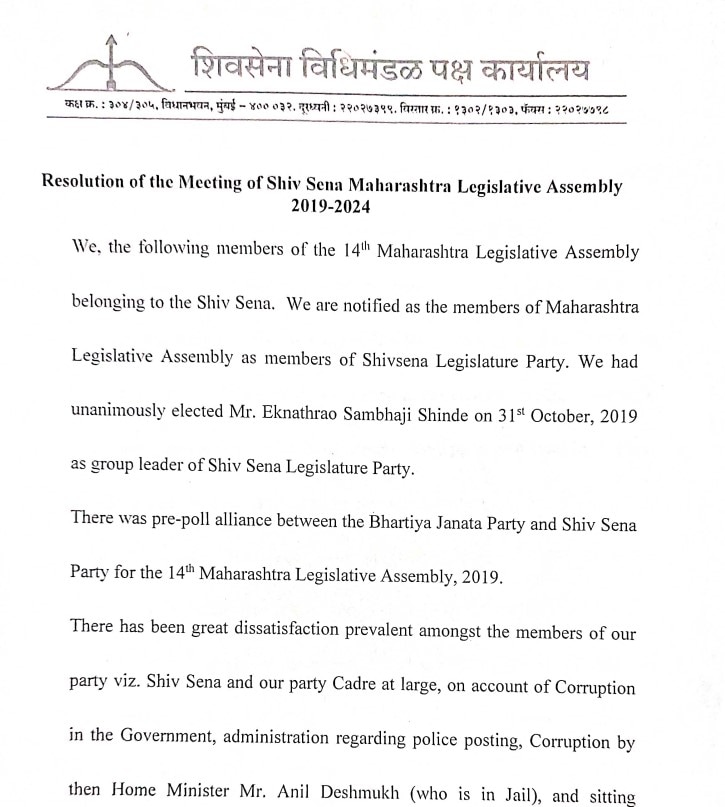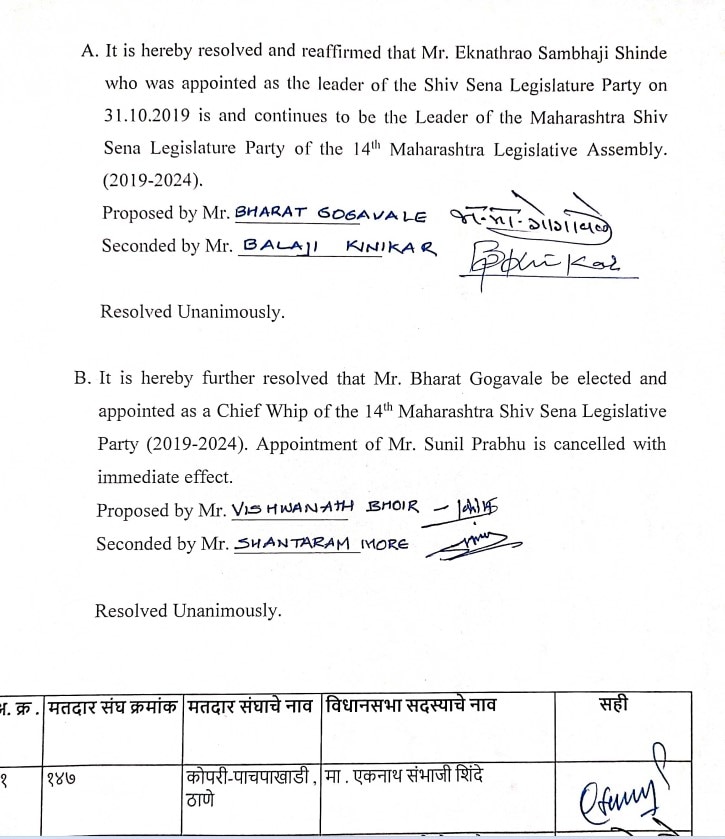 Shiv Sena MLA with Eknath Shinde
1) Eknath Shinde
2) Anil Babar
3) Shambhuraj Desai
4) Mahesh Shinde
5) Shahaji Patil
6) Mahendra Thorve
7) Bharatsheg Gogawale
8) Mahendra Dalawi
9) Prakash Abitkar
10) Dr. Balaji Kinikar
11) Dyanraj Chaugule
12) Pvt. Ramesh Bornare
13) Tanaji Sawant
14) Sandipan Bhumare
15) Abdul Sattar Nabi
16) prakash surve
17) Balaji Kalyankar
18) Sanjay Shirsat
19) Pradip Jayswal
20) Sanjay Raymulkar
21) Sanjay Gaikwad
22) Vishwanath Bhoir
23) Shantaram More
24) shrinivas wanga
25) Kishor Patil
26) Suhas Kande
27) Chiman Aaba Patil
28) Hundred. Lata Sonawane
29) Pratap Sarnaik
30) Hundred. Yamini Jadhav
31) Yogesh Kadam
32) Gulabrao Patil
33) Mangesh Kudalkar
34) Sada Sarvankar
35) Dipak Kesarkar
36) Dada Bhuse
37) Sanjay Rathod
Shiv Sena is taking action against rebel MLAs. Shiv Sena should take disciplinary action against 12 MLAs, a letter was sent to Assembly Deputy Speaker Narhari Jirwal. Shiv Sena MP Arvind Sawant has informed about this. In the first phase, 12 names were given, but we will demand action against the rest, he added. MP Arvind Sawant said that some of the figures being shown are wrong. We had two meetings. The whip was issued by newly elected group leaders Ajay Chaudhary and Pratod. Some people have answered it, but there are also false reasons. They have given answers on their own account. Twelve people have been named for disciplinary action. They have demanded the cancellation of their membership.
Who are the 12 MLAs whose membership has been demanded to be canceled by Shiv Sena?
1) Eknath Shinde
2) Abdul Sattar
3) Sandipan Bhumre
4) Prakash Surve
5) Tanaji Sawant
6) Mahesh Shinde
7) Anil Babar
8) Yamini Jadhav
9) Sanjay Shirsat
10) Bharat Gogavale
11) Balaji Kinikar
12) Lata Sonawane
What did Eknath Shinde say?
Eknath Shinde responded by tweeting after the action against the MLAs. After your tweet, he said, who are you trying to scare? We know your fabrication and the law too! According to the 10th Schedule to the Constitution (Schedule) the whip is for the assembly makaja, not for the meeting. There are numerous Supreme Court decisions in this regard. You can't scare us by applying for action against 12 MLAs. Because we are the real Shiv Sena and Shiv Sainik of the venerable Shiv Sena chief Balasaheb Thackeray. The law also knows, so does not beg for threats. We demand action against you for creating an illegal group without a number.