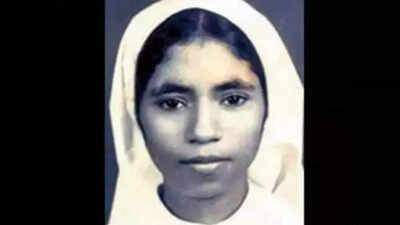 File photo of sister Abhaya
KOTTAYAM: Knanaya Catholic Archdiocese in Kottayam termed the high court verdict in Sr Abhaya case on Thursday as 'delayed justice'.
Addressing the media on Thursday, the pastoral council secretary of the church, Binoy Edayadiyil said that the Church considered the verdict as a delayed justice; but he also added that the Church is happy with this court verdict. And, we thank God for the same, he added.
He also said that the whole of Knanaya community believes that the case was a contrived one and Fr Thomas Kottoor and Sr Sephy are innocent in Sr Abhaya case. Regarding the arguments of activist Jomon Puthenpurackal, Edayadiyil said that everyone knows the credibility of the person and whatever he said regarding this case was not correct.
Meanwhile, the prime witness in the case, Adakka Raju said that those who have money can do whatever they want. I am a poor person. The biggest fault I did was to speak about what I had seen that night. He also said that he is not all happy with the court verdict because he was sure that 'they had committed a mistake'.
On what trust can we send our children to a hostel or any such homes, he asked. He added that the two were convicted by a special court by trusting his statement. I am ready to say this truth again, anywhere. He also said that he still vividly remembers seeing those three at the convent that night.
FOLLOW US ON SOCIAL MEDIA
FacebookTwitterInstagramKOO APPYOUTUBE